Modern emulators, in addition to expanding the available functionality, follow the path of its maximum "controllability". Developers create tools for debugging the system for the behavioral characteristics of each user. Today we will talk about what BlueStacks Tweaker is, in the process of narrating we will consider the characteristic features of the program, its capabilities.
For reference
BlueStacks is a popular emulator that creates a local Android environment within the desktop system. Users choose it due to the following set of strengths:
high performance gameplay;
support for most popular applications;
intuitive user interface.
BlueStacks Tweaker is an auxiliary utility that expands the list of configurable parameters of the emulating system. Behind the unpretentious design lies a Klondike of possibilities, which we will talk about a little later.
Detailed description
To get started, download BSTweaker from our link below and extract the contents of the archive to any directory. Then open the file BlueStacksTweaker5.exe, then the updated interface in English will be displayed. To change it to Russian, click on English at the bottom of the window and select Russian from the list.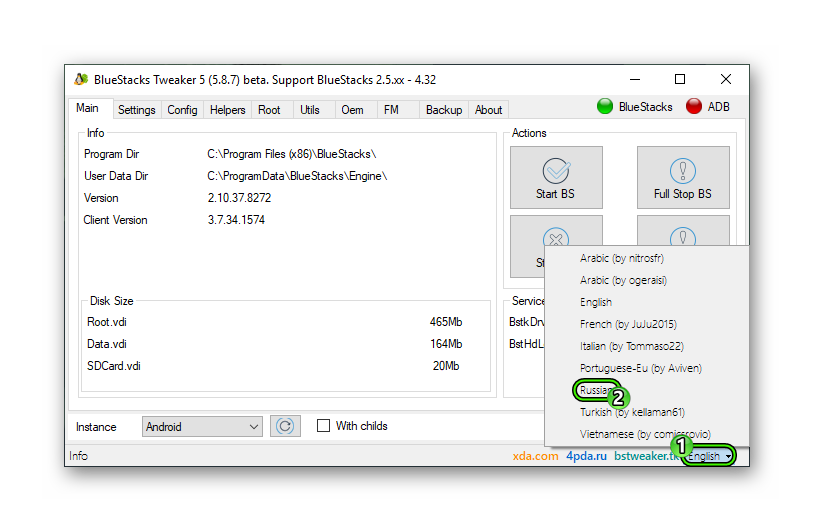 The main menu includes many tabs, but we are interested in these:
Home – Displays information about the desktop system and BlueStacks (root path, disk size, instance). The following actions are also available in the right corner of the screen: Start, Full Stop, Stop, Force Kill.
Settings – In the left corner is information related to the GUID. On the right, you can select the device model, country, and mobile operator.
Configuration – sets the screen resolution, DPI (pixels per inch) and the amount of allocated RAM.
Useful – changes the theme, enables/disables auto-updates.
Root – set root rights and related utilities.
Oem – customization of the user interface, purpose and number of tabs.
About – sets the frequency of searching for updates or switching to manual checking mode.
Functional
The developers endowed their offspring with the following features:
Intuitive control panel for emulator operation;
Software-implemented interaction with the n-th number of Google profiles, there is the possibility of their point settings;
Availability of technical models of certified latest generation smartphones.
Summing up
BlueStacks Tweaker is a handy utility that effectively customizes the work of the emulator of the same name. Due to the optimal correction of technical parameters, high performance in gaming applications is achieved.