Despite the efforts of the developers, from time to time users experience errors and bugs. Often the problem lies in personal computers and the imperfection of operating systems. Today we'll talk about how to install BlueStacks if it says it's installed. Let's figure out what to do in such a situation, the possible causes of problems.
Instruction
The error "BlueStacks is already installed on this machine" means that the emulator of the same name is already installed on a personal computer or other platform.
In this regard, there are several reasons for the occurrence of a software problem:
Somewhere in the back streets of the drive, the installed BlueStacks really hides, and the user has safely forgotten about it.
The previous version of the program was removed "out of canon", which resulted in a conflict between the desktop system and the Installer Wizard.
Residual files or entries are stored in the registry and were not removed during the uninstallation of the main application body.
Ways to solve
There are several ways to solve a problem, and it is the duty of the narrator to describe them in full.
For ease of perception, we will divide the further narrative into several logical blocks.
Universal approach
Despite the difference in the causes of occurrence, this methodology with equal efficiency fights with a malfunction. Step by step instructions are given below:
Restarting the stationary platform.
In the Command line (key combination Win + R) enter the phrase %temp%.
Delete all folders that contain BlueStacks.
Restart the PC again and activate the emulator distribution.
Alternative
The method is based on the use of standard OS tools:
Go to Control Panel.
Find the section Programs and Features.
This is a list of all installed software.
Looking for everything related to BlueStacks and safely deleting it.
Manual cleaning
If the problem spread its wings again, then it remains to clean the system registry on your own. For this:
Activate Command Prompt and enter the phrase regedit.
Open the directory HKEY_LOCAL_MACHINE.
Now go to SOFTWARE.
Look for any references to BlueStacks and highlight them.
And then delete the corresponding directories.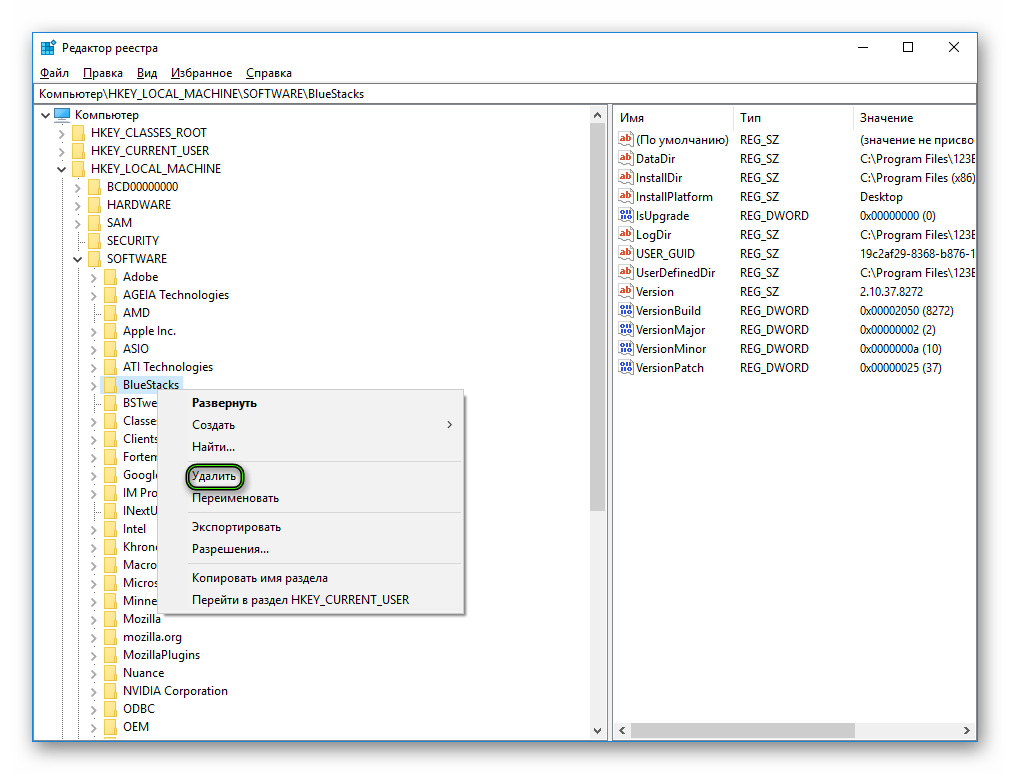 Summing up
The performance of the program and the installation file does not always depend on the developers. It is difficult to predict their "behavior" due to the difference between the behavioral characteristics of the user and the characteristics of the desktop system. But questions about what to do when it says that the latest version of BlueStacks is already installed should disappear.